Description
Bash in resto-mod style with the ARRMA® FELONY™ 6S BLX Street Bash 4WD RTR. Featuring telemetry–capable Spektrum Smart electronics, this RC car capable of reaching top speeds of 128+ km/h out of the box on road, over dirt tracks and oval tracks.
Capable of reaching 128+ km/h
Customisable scale muscle car looks and interchangeable accessory kit and decals
Multi-part undercut body design and a tuneable wing
Rear diffuser to increase downforce and grip with exhaust detailing
Front bumper and splitter
Waterproof* ARRMA ADS-15M metal geared servo
Strong 3mm plate, 6061-T6 anodised aluminium chassis
Includes the waterproof Spektrum® Firma™ 150A Smart ESC with IC5 connector that can handle 4S/6S power
Waterproof* receiver box
Includes the Spektrum 3-Channel DX3 DSMR radio with SR6110AT receiver
Active Vehicle Control technology
Voltage level indicator on the DX3 for Spektrum Smart batteries
See real-time telemetry data when you download the free Spektrum Dashboard app for iOS or Android
Includes the Spektrum Firma 4074 2050kv brushless motor with Safe-D input gears
Muscle car handling with regular front and larger rear tyres with gearbox ratios matched to tyre sizes
Centre brace to increase durability
High-speed centre driveshaft support
Black-anodised aluminium front and rear shock towers and oil-filled adjustable anodised aluminium shocks
Front and rear body mounts are adjustable
Strong drivetrain with durable steel driveshafts throughout
Three oil-filled metal gear diffs. all-metal diff outdrives and gearbox internals
Large battery trays
dBoots® Hoons™ all-road tyres on five-spoke wheels
Durable wheel hubs
2-year limited warranty
* Please refer to the product instruction manuals for details on waterproof standards
Big street bashing with the Arrma FELONY 6S BLX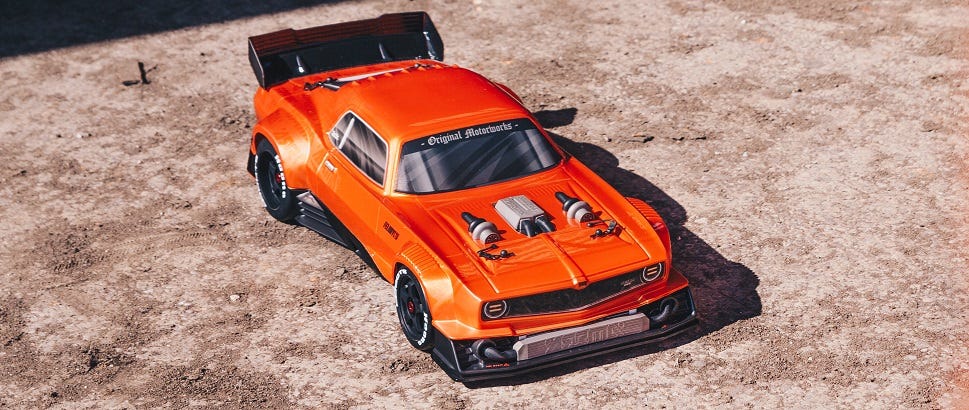 Arrma's 1/7 scale FELONY 6S BLX 4WD RTR was inspired by the muscle cars that influenced the American auto industry in the 1960s and 70s. Sleek, strong and stylish with its resto-mod muscle car style and Arrma brushless platform, the Arrma FELONY can reach speeds of 128+ km/h using a 6S LiPo and the included speed pinion gear. Nothing will stop this RC drift car – experience drag racing and street bashing on all roads, in all conditions including loose gravel, dirt roads, asphalt, and short grass – rain or shine! Imagine being able to use this on Grand Theft Auto.
Under the body of the eye-catching Arrma FELONY 6S BLX 4WD RTR is the durable 6061-T6 anodised aluminium chassis that houses a heavy-duty drivetrain with steel driveshafts as well as all-metal gearbox internals and diff outdrives. The black anodised aluminium shock towers support the adjustable anodised aluminium shocks that absorb all the bumps and jolts the Arrma FELONY will endure. It also features a centre brace for maximum durability.
Muscle car style with Spektrum SMART technology
You'll impress the rest with the Arrma FELONY's matte and gloss finished multi-part muscle car body design that features an aerodynamically adjustable wing. You can also give your FELONY 6S BLX a unique look with the included accessory kit and decals! That's not all… Arrma have included dBoots® Hoons™ all-road tyres that are mounted on realistic 5-spoke wheels – with larger rear tyres, regular front tyres and the gearbox ratios to match, comes authentic muscle car handling.

The included Spektrum DX3 Radio system and SR6110AT receiver will keep you in control on this street bashing beast, with the assistance of Active Vehicle Control. It also features a voltage level indicator that helps you track how much voltage is left on your Smart battery. Download the free Spektrum Dashboard app (available for iOS and Android on the App Store or Google Play) and you can view real-time data of the receiver (BEC) voltage, motor RPM, ESC temperature and drive pack voltage thanks to the included Spektrum Firma Smart components.
Push the limits of the FELONY™ 6S BLX Street Bash RTR to the max — it's made to handle it.
What's in the box?
ARRMA® FELONY™ RETRO MOD STREET BASH 1/7 6S BLX 4WD RTR
Spektrum® DX3™ DSMR® Radio with SR6110AT Receiver
Spektrum® Firma™ 150A Smart ESC
Spektrum® Firma™ 4074 2050Kv Brushless Motor
ARRMA® ADS-15M Waterproof Servo

(2) 2S or 3S LiPo batteries
Compatible charger
Safe LiPo charging bag
(4) AA transmitter batteries

Completion Level: Ready-to-Run

Scale: 1/7

Length: 28.54 in (725mm)

Width: 12.91 in (328mm)

Height: 7.56 in (192mm)

Weight: 11 lb (5kg)

Ground Clearance: 0.59 in (15mm)

Wheelbase: 15.98 in (406mm)

Front Track: 12.13 in (308mm)

Rear Track: 12.91 in (328mm)

Chassis: 3mm Plate, 6061-T6

Aluminium Suspension: Independent

Shock Type: 3.03 in (77mm) FR, 3.43 in (87mm) RR Aluminium

Drivetrain: 4WD

Differential: Three oil-filled metal gear diffs

Wheel Type: 5-Spoke, 17mm hex

Wheel Diameter: 3.27 in Inner, 2.95 in Outer (83mm Inner, 75mm Outer)

Wheel Width: 1.69 in (43mm) front; 2.15 in (54mm) rear

Tyre Compound: White

Tyre Tread: dBoots® Hoons™

Tyre Diameter: 3.94 in (100mm) front; 4.21 in (107mm) rear

Motor Type: Non-Sensored Brushless

Motor Size: 4074

Pinion: 16T

Spur Gear: 46T

Gear Pitch: 1.0MOD

Internal Gear Ratio: 2.8:1 front; 3.07:1 rear

Final Drive Ratio: 8.05:1 front; 8.83:1 rear

Speed Control Included: Yes

Radiol: DX3™ 3-Channel

Servos Included: Yes

Body: FELONY, screen printed, decaled and trimmed

Ball Bearings: Transmission

Experience Level: Intermediate

Recommended Environment: All-Road

Is Assembly Required: No

Approx. Assembly Time: Less than 1 Hour